Keratoconus
Keratoconus is an eye condition in which the shape of the cornea becomes distorted. The cornea is a clear structure that covers the front of the eye and allows light to enter the eye. In a healthy eye, the cornea curves like a dome. In an eye with keratoconus, the center of the cornea slowly thins and bulges so that it sags and has a cone shape.
What causes keratoconus?
The cause of keratoconus is unknown.
What are the symptoms of keratoconus?
Keratoconus tends to affect younger people and the symptoms sometimes start in the early teen years and progresses most rapidly for the next 10 to 20 years. Often, eyeglass prescriptions must be changed frequently as the disease progresses.

Symptoms include:
Difficulty driving at night
Halo's and ghosting, especially at night
Eye strain
Headaches and general eye pain
Eye irritation and excessive rubbing of the eye
How is keratoconus diagnosed?
Keratoconus can usually be diagnosed with a slit-lamp examination as well measurement of the corneal curvature. Your optometrist will look for signs such as corneal thinning, stress lines, and scarring at the apex of the corneal cone. Keratoconus, especially in the early stages, can be difficult to diagnose and its symptoms could be associated with other eye problems. Simply recognizing symptoms does not by itself diagnose the condition.
What is the treatment for keratoconus?
The primary treatment options for keratoconus are contact lenses and surgery. In the very early stages of keratoconus, vision problems can be corrected with prescription glasses or contact lenses. As keratoconus progresses, special rigid gas permeable contact lenses may be necessary. Advanced keratoconus may require surgery.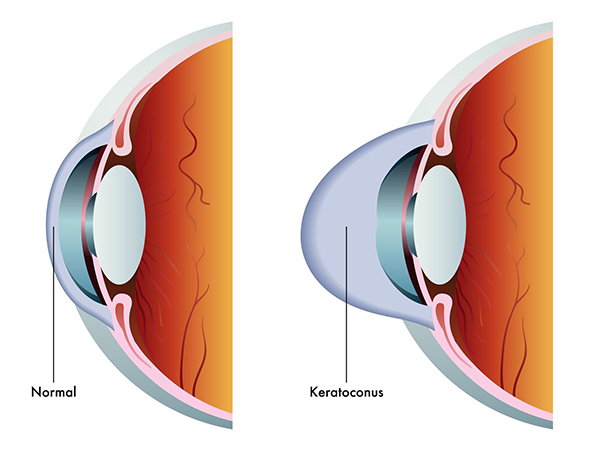 Additional Info
To request an appointment, you can call us or fill out our contact form and a member of our staff will be in touch with you.
At Dr. Fanelli's Eyecare, we offer all types and brands of contact lenses specifically fitted for each individual's needs. It is very important that your lenses are fitted correctly based on your prescription, eye shape and specific needs.

Click here to Order.
We accept Visa, MasterCard and American Express credit cards as well as personal checks. We also participate with most insurance and union plans. To find out if we accept your plan, please call our office.